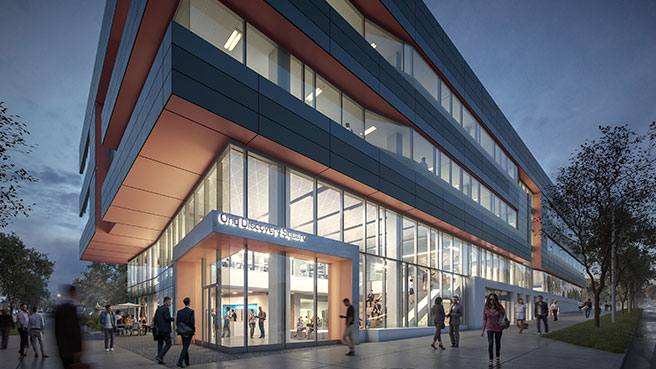 Combining innovative Mayo Clinic labs with medical businesses and creative start-up companies will help Rochester — and benefit patients.
Outside his office in the Destination Medical Center Economic Development Agency, Chris Schad leans over a model of downtown Rochester, Minn. He traces out Discovery Square — the 16-block area south of the main Mayo Clinic campus that is becoming an innovation and business hub.
Wiry and bespectacled, Schad points to 3-D printed models of modern medical buildings, such as the Minnesota BioBusiness Center, as well as One Discovery Square, a gleaming glass and steel four-story project with expansive common collaboration space that Mortenson, the Minnesota-based real-estate developer, is erecting.
Schad, director of business development for Discovery Square, predicts the district will ultimately be occupied by more Mayo labs and associated high-tech medical companies.
"I think just five years from now it's going to look radically different," he says.
The Discovery Square redevelopment district, about 30 percent of which is owned by Mayo Clinic, is envisioned to do a couple of things: First, to accommodate in some planned fashion the residential and commercial growth expected in Rochester in the next couple of decades. And second, to translate the medical and commercial innovations coming out of Mayo Clinic into commercial medical developments that benefit the Rochester economy and Mayo's patients. Read the rest of the article and learn more about Discovery Square.
___________________________________________
Other Mayo Clinic medical research websites: